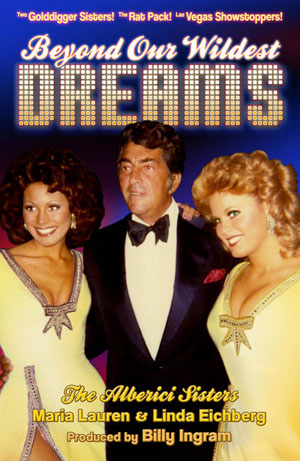 Maria Lauren and Linda Eichberg are two sisters who joined Dean Martin's fabulous Golddiggers in 1973, one of the grooviest girl groups of all time, and along the way performed with Las Vegas superstars like Louis Prima, Gene Kelly, Jerry Vale, Donald O'Connor, Steve & Eydie, Jonathan Winters, Bob Hope, and so many more.
They were on tour in 1977 with Frank Sinatra and Dean Martin when they hit the road on their last successful run together, earning the girls the nickname "The Rat Pack Golddiggers" because they were so beloved by Dean & Frank.
The Alberici Sisters share their amazing experiences in this 340 page Oral History of the Go-Go 1970s in Las Vegas and beyond.
Here are some of the highlights from
BEYOND OUR WILDEST DREAMS:
- The unusual way these young Italian-Hungarian gals from Philadelphia grew up - no milk, no meat, no sugar, no white bread. Ever.
- Barely out of High School, despite having been out on only a date or two, these devout Catholics joined Dean Martin's Golddiggers for TV, Las Vegas shows and touring all over the country.
- What was Dean REALLY like? Was he the drunken womanizer he played on TV?
- Filming the Dean Martin shows and Roasts with all the stellar guest stars - Orson Welles, Gene Kelley, Loretta Lynn, Dom DeLuise, Ronald & Nancy Reagan, Jonathan Winters, Nipsey Russell, Shirley Jones and many more.
- Appearing with Dean in Las Vegas during the booming 1970s & 1980s, opening night at the MGM Grand.
- Working with the legendary Louis Prima on his last tour.
- In Vegas and on tour they appeared with Jerry Vale, Bobby Goldsboro, Red Skelton, Steve & Eydie and many others.
- Missing by a few weeks being the victims of the deadliest mob hit in history.
- On the road with Milton Berle, Donald O'Connor and dirty old man George Jessel in the Roy Radin Vaudeville Revue (Roy Radin was the victim in the notorious Cotton Club Murder - he was born on Friday the thirteenth, went missing on Friday the thirteenth, his body was found on Friday the thirteenth with thirteen bullet holes in him. He was also head of the Church of Satan, nothing of which the girls knew at the time, of course! They were and are devoted Christians.).
- A near death experience in the sky with Bob Hope.
- And, of course, working with Frank Sinatra and Dean together for the last time they toured as a duo - including dates at the Sabre Room in Chicago, The Latin Casino in Cherry Hill, NJ, and the mobbed up Westchester Premier Theatre in New York.

BEYOND OUR WILDEST DREAMS - BEYOND OUR WILDEST DREAMS - This Oral History, created by TVparty.com's Billy Ingram, tells these intimate, behind-the-scenes stories entirely in the words of the people who were there. There's never been a book quite like this - with words and pictures working together to give the reader the richest possible reading experience.
| | |
| --- | --- |
| HERE ARE SOME SAMPLE PAGE SPREADS: | |
LOOKS LIKE FUN, DOESN'T IT?
CLASSIC VIDEOS:

Here are Dean and Frank singing one of the medleys they performed on their 1977 tour. You can see how seriously they took this mash up of great standards - they really mucked around with it on this segment from Dean's show.

Maria & Linda worked with Louis Prima - it was no big deal to them but wow! It was his last tour - Prima, Gia Maione and Sam Butera were starting over with a new band and a cool new sound. None of which is on You Tube. But this is, Prima, Maione & Butera on Dean's show in 1965.


Did you ever visit Las Vegas in the 1970s? If so you'll remember these sights - home movies of glittering Sin City in 1976, when Elvis was in town. Wayne Newton at The Sands. And if you caught The Supremes opening for Alan King at Caesars you saw one of their last shows. Look at all of those empty lots and wide open spaces!

Here are the Alberici Sisters themselves in these highlights from The Dean Martin Comedy Hour in 1973 - and a taste of the gals today, sounding better than ever, I'm sure you'll agree!



---
Billy launched TVparty.com in 1997 and it quickly became one of the Internet's hottest spots for entertainment attracting millions of users a month. In 2002 he released the best-selling book TVparty: Television's Untold Tales to rave reviews from around the world. He wrote and starred in two TV series for the VH1 and Bravo networks and produced the Eisner Award nominated book Dear John: The Alex Toth Book. He was a designer on some of the most successful Academy Award campaigns, film trailers, and movie posters of all time, for stars like Harrison Ford, Barbra Streisand, Tom Cruise, Steven Spielberg and many others. An internationally acclaimed actor, Internet pioneer, artist, writer and shameless self-promoter, Billy Ingram starred in the 2011 indie motion picture Swimming in a Lake of Fire.
---
Here are some reviews of Billy Ingram's last book,
TVparty! Television's Untold Tales:
"Jam packed with a lot of really great stuff. It's fabulous! It's full of unbelievable stories and great pictures and really good things and it's just awesome." - WGN Radio
"Admit it. There's never anything good on TV. So read a book. In fact, read this book." - Access magazine
"A nostalgic, humorous look at television... As a reading experience, it's zapping your way up and down the cable box..." -- Ben Varkentine, Ink 19
"A terrific way to rekindle the past through television memories. A goldmine of fun!" -- Santa Cruz Sentinel
"Damn fine. Ingram has packaged the best of TVparty.com into a book and CD-ROM combo. Good stuff!" -- E! Online
"Deliciously photo- and fact-stuffed!" -- The Advocate
"For the literate couch potato - it was worth killing all those trees..."TVparty!"...is this tube-glued heaven or what?" -- Newsday
"Like a box of bedside bonbons, 'TVparty!' is too rich for gobbling at one sitting." -- Frontiers magazine
---
YOU'LL ALSO READ ABOUT LOUIS PRIMA:
Louis Prima the most dynamic Vegas performer of all? Maybe. He's been largely ignored but was rediscovered in the '90s. But everyone plays the same Prima songs, they ignore his later period when his entire band, other than Sam Butera, quit all at once to start a musical comedy trapeze act for Vegas. Really, I didn't believe it either. Sam put together a crack combo and they hit the road with vocalist Gia Maione, who took over after Prima and Keely Smith split up. The sound was part Jazz, part pop, part fusion, part funk. It was a bit wierd but Louis Prima had fallen out of favor by the 1970s so the fact he was switching things up late in life said a lot about his artistic integrity.
Unfortunately You Tube doesn't have any of those later sounds but here's Louis, Sam Butera and The Witnesses with Gia Maione from The Dean Martin Show in 1967.